For two decades we have heard about AP automation in the back office in various organizations and fortune 500 companies. This resulted in a very problematic approach to invoice processing because there are manual efforts involved which can be costly, time-consuming, and errors can occur.
AppZen's vision is to use its world-class AI technology and not just improve automation but to be fully autonomous. Autonomous is defined as systems that are able to accomplish a task, achieve a goal, or interact with their surroundings with minimal to no human involvement. Using advanced AI, autonomous systems can predict, plan and be aware of the world around them. AppZen's goal is to make its AI smart to achieve autonomous decisions for invoice processing and to help reinforce policies to stay compliant.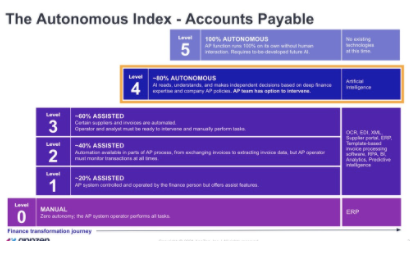 To better appreciate how AI can provide autonomous processing, let's first understand the different levels of autonomy. AppZen uses the Autonomous Index for Accounts Payable, with 5 levels of autonomy.
Level 0 provides ZERO autonomy as it's fully manual processing.
Levels 1, 2, and 3 are varying levels of assisted automation from 20% to 60% autonomy. Here, AP tools and applications assist human AP processors with the data, defaults, workflow, and insights to make better human decisions. Customers using Oracle Payables would typically fall in levels 1, 2, and 3.
Level 4 on the Autonomous Index is when an AI-based AP system is capable of autonomously extracting, reading, understanding, and making process decisions. The AP system can perform all the tasks, including monitoring and correcting itself. The AI-based AP system can make decisions based on a company's AP policies in all aspects of invoice entry, matching accounting approvals that are compliant. The AI knows where it can and cannot make a decision, it proactively engages the AP operator only when needed so that nothing falls through. AppZen's Autonomous AP is a level 4 application that can enable Oracle Payables customers to accelerate their journey to 80% autonomous processing.
Level 5 is the highest level with 100% autonomy where the AP department runs 100% on its own without any human intervention- the technology has not yet evolved to Level 5.
Where does Accounts Payable fit within the Levels of Automation
Just as AI transforms driving with autonomous vehicles, it also changes how invoices are processed at excessively high rates, even for non-electronic invoices. Both technologies work similarly. A Tesla car sees its surroundings by using computer vision. It can distinguish between people, stop signs and other vehicles to understand the current situation that the vehicle is in. Then, it uses AI to decide how to react. AppZen Autonomous AP reacts the same way to process and improve most invoices without requiring human intervention.