Overview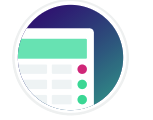 AppZen Autonomous AP is an AI-first application that can autonomously process the majority of manual invoices end to end at minimal to zero manual touches, with 100% confidence! The intelligent AI software learns quickly and automatically adjusts its predictions based on just two to three data samples of user feedback. With Autonomous AP, most invoices move from "extraction" to "ok-to-pay" with no human intervention, thereby improving your invoice processing efficiency by up to 80%.
Defining Autonomous
Core Technology
AppZen Autonomous AP core technology helps with automation throughout the invoice process. The core technology includes:
Product Features
The AppZen Autonomous AP features help the AP processor quickly identify how to access, submit invoices, manage and take action on invoices that require attention.
AppZen Autonomous AP Models
Models are used to audit invoices, detect duplicates, and verify suppliers. Thereby helping organizations stay compliant. Autonomous AP uses the following models.